Child safe paints
Introduction
Creating a beautiful and serene environment for children is a step many new parents take, when expecting their babies. Painting or repainting a child's room is one of the easiest ways of creating the right look and feel for their early years, and many parents are looking for the best and safest way to do so. Because young children in the early stages of their mental and physical development are more susceptible to the hazards associated with paint products. Therefore, it is strongly recommended to use paint products that contain low and reduced levels of harmful substances that could minimize any risks leading to disruption of child development.
In order to better explain, what paint products are child friendly, this post will discover:
What are child safe paints;
Why it is important to choose child safe paints;
Are eco-labelled paints child safe;
How to recognise child safe paints.
What are child safe paints and why does it matter?
Conventional paints contain chemicals that are harmful for children due to the fact that they are in the sensitive early stages of their physical and mental development, their nervous system is not protected from chemicals entering through the bloodstream and they are curious and often explore their environment orally (a).
Common paint ingredients include Volatile Organic Compounds (VOCs), biocides and heavy metals. Early exposure and prenatal exposure to chemicals emitted by paint products can lead to serious health risks that include congenital anomalies or birth defects, rhinitis, asthma, pneumonia, and even several forms of cancer including the infamous childhood leukemia.
Read more in our blogpost: What is a child-friendly paint?
Recognising that conventional paints are a significant source of hazardous chemical exposure, it is important to protect children by choosing non-toxic paints that are child safe and are formulated following the best health and quality standards.
Child safe paint is essentially a non-toxic paint with eliminated or low levels of the VOCs and reduced and safe amounts of heavy metals and biocides. General rule is to choose natural and water-based paints, paints that are marked as low or zero VOC paints, biocide-free paints and paints free from heavy metals, like lead and mercury.
A possible choice for child-safe paint is also set out in the Toy Safety Directive. Although the directive is focused on the safety of children's toys, it also provides a clear set of limits for hazardous substances that are safe for child exposure. Some paint manufacturers also provide indoor paints that are compliant with the Toy Safety Directive. It is possible to recognise such products by the CE marking.
Types of child-safe paint
The coatings market has yet to agree on a common standard for child safe paints, meanwhile as consumers are searching for the safest product choice for their indoor projects, three product categories stand out as safer and low in toxicity:
Natural paint (mineral paint, clay paint, milk paint)
By far the safest indoor paints are known to be natural paints such as mineral, clay and milk paints. These paints are increasingly more available on the coatings market and are also simple enough to be made as a DIY project. These coatings consist of fewer ingredients than conventional paints and the lack of additives and solvents requires longer application time than conventional paints. While this is a drawback of natural paints, they outperform conventional paints in regard to environmental and health impact. Namely, all natural paints are non-toxic, breathable and often have natural antimicrobial, antifungal properties (d).
Latex paint (acrylic and PVA paint)
Latex paints are water-based, containing water instead of a chemically-based solvent and are commonly made with acrylic binder. These paints are widely available in the coatings market and are recognised as easy to apply, affordable and durable. Latex paints may be safer than solvent-based oil paints, but they can not be considered toxin-free, due to the fact that most latex paint formulations contain toxins from paint additives and resins. When choosing latex paint for environments exposed to sensitive individuals, such as small children, paints marked with an environmental label can guide towards the safest product choice (b).
Linseed-Based Oil paint
A great non-toxic option for painting wood surfaces is linseed-based oil paint, that works indoors as well as on the exterior surfaces. Linseed-based oil paint is solvent free and contains natural pigments, it protects wood surfaces well and is recognised for breathability and long-lasting performance. Despite of all natural ingredients in the paint formulation, they are not completely safe and are known to off-gas VOCs for approximately 7 days. Therefore, it is mandatory to have good ventilation in rooms where this paint has been applied. Linseed-based paint also is an environmentally friendly product due to the fact that it is completely natural and degradable (c).
Are paints awarded with an environmental label child safe?
Keeping in mind that non-toxic paints are sought after, when looking for child safe paints, environmental labels can provide guidance towards such product choices. Paints awarded with an environmental label are by default meeting strict limits for content of hazardous substances and are third-party evaluated and approved. Environmental label programs are designed to recognise and support the safest, most environmentally-friendly and competitive products on the market for easy recognition by the general public. To better understand, if paints awarded with an environmental label are really child-safe, it is necessary to look closer at the three main hazard categories - VOCs, biocides and heavy metals, and what are their limits set by the EU Ecolabel (leading environmental label in Europe).
VOCs exhibit acute and chronic toxicity in people and early exposure to certain VOCs may increase the risk for birth defects, neurocognitive impairment, asthma, and cancer.
The EU Ecolabel has set a strict limitation to VOCs and SVOCs (Secondary Volatile organic compounds, where lowest amount of 10 g/l is required for interior matt wall and ceiling paint, while the highest required amount of 80 g/l applies to interior and exterior trim and cladding paint for wood and metal as well as one-pack performance coatings (e).
Biocides are added to paint as preservatives and can include isothiazolinones (linked to severe dermatitis and impairment of pulmonary functions) and formaldehyde (a known irritant, carcinogen and endocrine disruptor).
Although the EU Ecolabel restricts additives that are substances or mixtures classified as toxic, hazardous to the environment, respiratory or skin sensitisers, or carcinogenic, mutagenic or toxic for reproduction, the paint preservatives such as biocides are exempt from these restrictions. To purchase a paint product that does not contain any biocides a consumer can follow the "biocide-free" marking on the paint packaging (e) .
Heavy metals are paint ingredients that come in the form of different paint pigments. The health effects from absorbing heavy metals can be detrimental, harming the kidney function, reproductive organs and the nervous system, where people most at risk are unborn infants and young children.
The EU Ecolabel awarded paints are compliant with the limitation of restriction for no more than 0.010% additives based on the content of cadmium, lead, chromium VI, mercury, arsenic or selenium (e).
To sum up, environmental labels such as the EU Ecolabel are recognising healthier and more child safe paint products in regard to limited contents of VOCs and heavy metals but do not provide substantial safety guarantees regarding biocidal additives used in paint formulation.
Further reading about the EU Ecolabel requirements for indoor paints and varnishes: link
Labels indicating child safe paints
Different product certification programs, providing recognisable product label or marking are helpful tools for the consumers searching for healthier and safer product choices. Some of the best known certification programs are national environmental label programs, such as the  EU Ecolabel, Nordic Ecolabel, Blue Angel, Green Seal. In addition, there are programs designated specifically to indoor air quality (GREENGUARD Certification), sustainability (Cradle to Cradle) and the health of sensitive individuals (Asthma & allergy friendly®), which  provide easy recognition of safer products.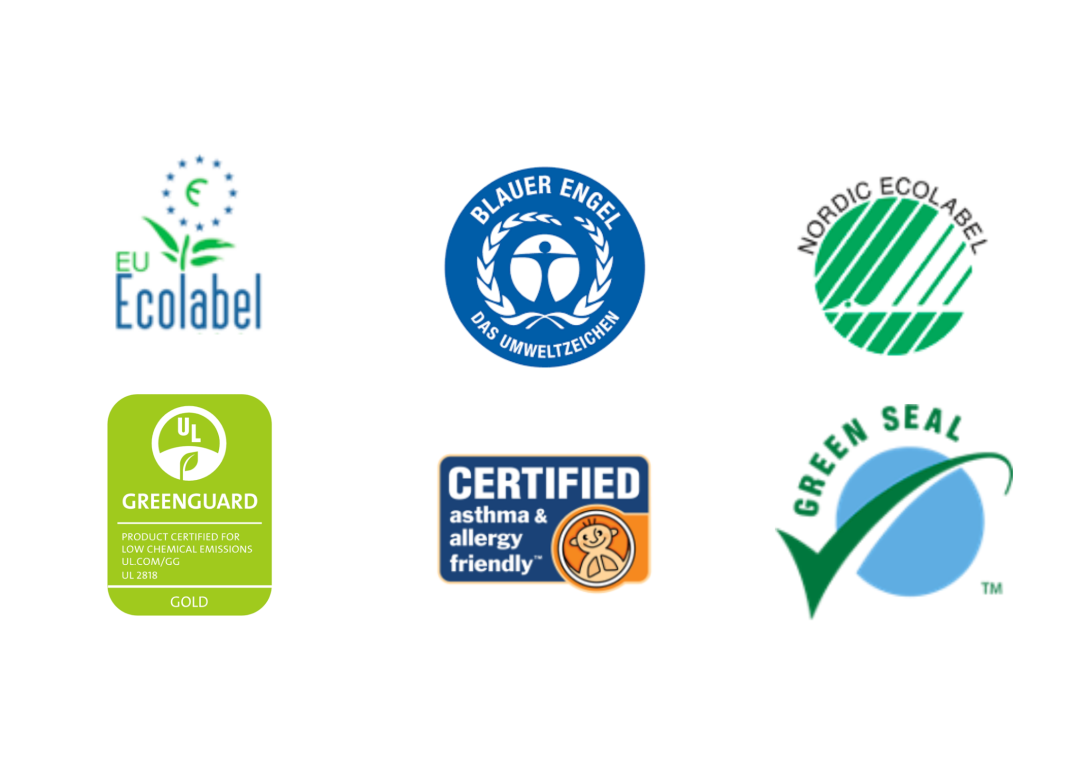 Tips and reminders for painting indoor spaces for children 
When it comes to painting indoor spaces intended for sensitive individuals, such as small children, it is generally advisable to follow these rules of safety:
Choose non-toxic, VOC-free and air purifying paints for your indoor project;
Pay attention to paint labels and look out for toxic ingredients;
Estimate the necessary amount of paint for the project to avoid storage of waste paint;
Follow the application and storage instructions provided by the manufacturer;
Avoid spray painting;
Ensure the air exchange by opening windows and doors;
Avoid painting in proximity of pregnant women and small children (f; g).
References:
---
Closing
Small children are among the most-at-risk groups regarding exposure to paints and coatings. Although coatings are increasingly more regulated in Europe and America, the levels of VOCs, biocides and heavy metals in paints are still important factor requiring attention of those who want to protect the sensitive individuals around them from significant harm.
Environmental labels and other paint certification programs provide guidance towards safer product choices, which can be also recognised by product markings. In order for a paint to have rights to use environmental labels, it must contain reduced levels of harmful ingredients and VOCs thus indicating that such paint is safer for application in spaces of sensitive individuals.
Three types of safest paints include natural paints, water-based paints and linseed oil based coatings, accompanied with third-party evaluated certification marking. Consequently, these paints can be considered the most child-safe coatings.
While this post provides guidance towards safer product choices for environments of children exposure, in case of uncertainty about sensitivities and allergies, it is advisable to contact a health professional.
Author: written by Anse Romančuka, edited by Linda Kikuste