How to understand paint labels?
Introduction
Product labels are important tools of communication linking manufacturer, government standards and the consumer, therefore contributing to more transparency, safety and informed consumer. Paint is a particularly difficult product to purchase and use. Namely, the product profile is chemically complex and it contains ingredients that average consumers are not familiar with without further information search thus they lack confidence about the product properties as well as impact on human health and the environment.
This blog post aims to provide a comprehensive introduction to the most popular paint labels, markings and other information that might empower the consumer as well as the professional in making well-informed product choices.
What is a paint label and why is it important?
Labels (also known as nameplates and markers) on a paint package carry an array of information about the particular paint product. In the EU member states all chemical products (including paints) must carry a label with the following information:
Supplier identity;
Name of the substance or mixture and/or identification number;
Nominal quantity of the product in the package;
Markers indicating hazards - hazard pictograms;
Signal words for the level of hazard ('Warning' or 'Danger');
Risk phrases ('Fire or projection hazard', 'Fatal if swallowed', etc.);
Safety advice ('Keep only in original container', 'Protect from moisture', 'Keep out of reach of children', etc.) (a).
Additionally, on a paint product packaging could be labels indicating more specific information that is awarded to a certain product, if it meets standards of a voluntary certification program as is the case with labels indicating healthier, sustainable and more environmentally friendly paints.
Third-party evaluated certification programs and labels contribute to a more conscious and responsible consumption of the paint products and increase awareness of the less widely known negative effects and risks that conventional paint products have. Therefore, in order to make the most informed choice regarding product quality and properties, sustainability, impact on environment and health risks, it is important to become familiar with the mandatory and optional safety, health and environmental impact information paint label offers.
Markers indicating hazards
The European Chemicals Agency (ECHA) is the leading institution in the EU implementing legislation on chemicals in order to protect human health and the environment. All paint products must carry markers indicating hazards associated with the paint chemical content and the applicable warnings include: health hazard; corrosive; acute toxicity; serious health hazard; hazardous to environment (Table 1) (b).
Table 1. Markers indicating hazards  (Source: ECHA (b))
Marker
Title
About
Safety

Health hazard/ Hazardous to ozone layer
May case allergic skin reaction or serious eye irritation;  harm if swallowed or inhaled;  harm to environment

Avoid skin and eye contact;
Avoid release to the environment.

Corrosive
May corrode metals, cause severe skin burns and eye damage

Store in original container;
Wear protective clothing, gloves, eye and face protection.

Acute toxicity 
Can harm or kill if swallowed, inhaled or in contact with skin

Handle with care;
Do not eat, drink or smoke while using product;
Avoid skin and eye contact;
Store locked up.

Serious health hazard

May damage fertility or the unborn child, cause cancer, allergies or asthma symptoms, damage organs

Fallow safety precautions;
Avoid breathing dust or fumes;
Store locked up;
Reach out medical help if respiratory symptoms appear

Hazardous to the environment
Toxic to the aquatic life

Avoid release in the environment;
Collect spillage;
Dispose of product and packaging appropriately.
Markers indicating healthier paint
Conventional paint products have a known health impact related to the hazardous  chemicals including Volatile Organic Compounds (VOCs), formaldehyde, biocides and heavy metals. It is recognised that persons most at risk from exposure to common paint ingredients are people with preexisting health conditions, allergies, asthma as well as pregnant women, young children and elderly people.
Read more about paint ingredients that can make indoor air toxic in our blog post here.
Certain certification programs aim to specifically evaluate and limit the common hazardous substances in products to low and safe amounts. Therefore, in order to protect one's health and health of other people it is important to becomefamiliar with paint certifications and labels indicating healthier products. The most common examples include EU Ecolabel, Nordic Swan Ecolabel, Blue Angel, Green Seal, Scientific Certification Systems (SCS), UL Environment – Greenguard, asthma & allergy friendly® (Table 2).
Table 2. Labels indicating healthier and safer paint products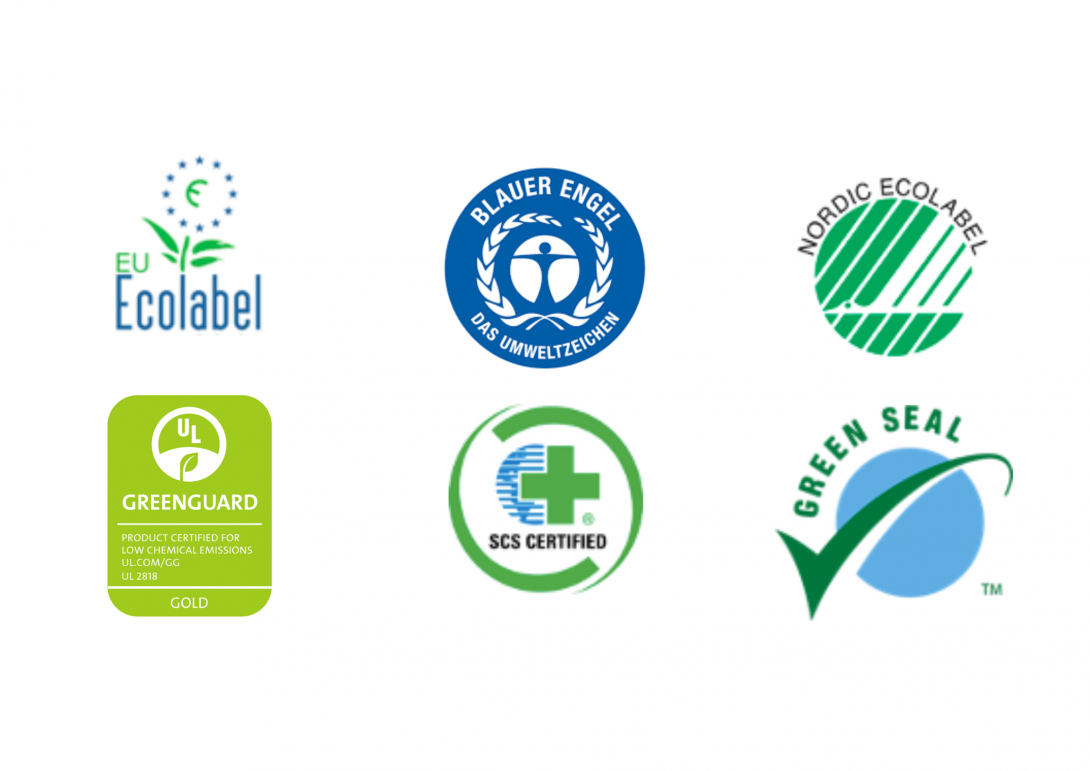 Environmental labels
The demand for safer and more environmentally friendly paint products increases due to many factors - global sustainability goals, consumer awareness of hazardous substances in chemical products, potential threats to natural systems and living organisms, etc. Taking into account these considerations, multiple certification programs offer voluntary opportunity for paint manufacturers to receive an environmental label or ecolabel.
Environmental stewardship and protection is the primary goal of an environmental label, serving as tools of communication and therefore encouraging the consumption of environmentally preferable goods (c).
Environmental label main objectives are the following:
Protecting environment;
Encouraging efficient management of renewable resources to ensure their availability for future generations;
Promoting efficient use of non-renewable resources;
Facilitating the reduction, reuse and recycling of industrial, commercial and consumer waste;
Encouraging the protection of ecosystems and species diversity;
Encouraging proper management of chemicals in products;
Encouraging environmentally sound innovation and leadership;
Building consumer awareness on environmental issues.
Environmental labels are categorised in three defined types that each have their distinct ISO number indicating that product manufacturer is awarded with an ecolabel or environmental declaration evaluated by a third party or of the paint manufacturer's self-declaration claims (Table 3) (c).
Table 3. ISO numbers for environmental labels (Source (c))
Type
ISO Number
Label information
Parties
Type III (environmental declarations)
ISO 14025
Qualified product information based on life cycle impacts.  The company must report on environmental parameters to a third party.
Third party certification
Type II (self-declaration claims)
ISO 14024

Verifiable single-attribute environmental claims.

First party self- certification issued by the manufacturer

Type I (ecolabel)

ISO 14024

Multiple-atribute criteria based.

Awarded by a licence or seal of approval.

Indicates overall environmental preference of a product within a product category based on a life cycle assessment.
Third party certification
There are multiple Type I environmental labels - ecolabels indicating holistic approach in impact evaluation that is composed of multiple criteria and includes life cycle assessment and product performance evaluation. The most common Type I environmental labels, that can be found on paint packaging, are EU Ecolabel (mainly in Europe), Green Seal (mainly in the USA), Nordic Swan ecolabel, The Blue Angel and Environmental Choice (Table 4)(c).
Table 4. Markers indicating environmentally-friendly paint (c; d)
Marker
Title
About

EU Ecolabel

Ecolabel coming from the EU. Indicates that paints and varnishes do not contain heavy metals, cancer-causing or toxic substances.

Nordic Swan Ecolabel

Ecolabel coming from Norway.
Strict requirements for solvents (VOC and SVOC).
Strict requirements for substances dangerous to environment and for preservatives (biocides).
Does not contain softeners.
Quality requirements.

The Blue Angel

Ecolabel coming from Germany.
Promotes low-emission products.
Raw materials used in manufacturing place less burden on the environment.
Does not contain substances that could have significant negative effects during use.

Green Seal

Ecolabel coming from the USA.
Indicates that paints and varnishes meet the ASTM standards in relevant areas.
Indicates that product is safer for human health and the environment compared to similar products.

Environmental Choice

Ecolabel coming from New Zealand.
Indicates compliance with internationally recognised standards and principles.
References
Closing
Mandatory information on a pain label provides to the consumer technical information of the paint product and manufacturer as well as hazards associated with the chemical profile of particular product. Non-mandatory information or the voluntary certification programs offering labels and markings for paint products indicate to the consumer that the manufacturer has taken certain steps in order to create a safer, healthier and more sustainable product that is well performing and competitive in the market. In order to make well-informed and responsible choices regarding product quality and properties, sustainability, impact on environment and health risks, it is advisable to become familiar with not only the basic but also additional information that a paint label can offer.
Author: written by Anse Romančuka, edited by Linda Kikuste